With new technology comes new problems. The advent of diagnostic systems for cars has led to the problem of choosing the right type of OBD scanners for your specific type of car. Since its introduction in the 1980s, the OBD system has experienced phenomenal advancement, and its use has become more widespread. 
The usefulness of OBD scanners in getting you more control over your car and allowing you an optimal driving experience has ensured this. For this particular reason choosing OBD scanners, especially for specific car brands might prove to be a bother as there is an endless array of OBD scanner options. 
However, before we proceed to discuss the best OBD II scanner for your Toyota, we shall be talking briefly about what OBD scanners are, their functions, things to consider in choosing the suitable OBD scanner for your vehicle.
What are OBD Scanners?
OBD means On-Board Diagnostics. It is a system used to read a vehicle's computer system and diagnose any issues. An OBD system is used to establish a connection between your car and the diagnostic software or application. What an OBD scanner does is grant you access to data about your vehicle, from error memory to real-time data. You should also note that depending on the sophistication of the scanner; you might also have access to customization features, basic repairs and car hacks. 
What are OBD II scanners, and what makes them different?
OBD II scanners are a giant leap from the initial generation of the onboard diagnostic system called OBD I. OBD I scanners were made based on the vehicle's emission control systems. The information provided by the OBD I scanner was severely limited as it only triggered the malfunction light (idiot light) in cars and could not offer any real diagnostic or repair solution. 
Following the standardization of OBD scanners in all vehicles made after 1996, there has been a significant advancement in the technology. With an OBD II scanner, you not only get information that something is wrong with your car: you also get information on what is wrong: you get reliable information that can be easily transmitted remotely via Bluetooth or Wifi.
The OBD II scanner performs all the functions of the OBD I scanner with increased versatility and accuracy. With an OBD II scanner, you get additional information, customization, car use data history, and performance level information.
Why are they necessary?
Before the advent of OBD II scanners, whenever there was a car issue that needed to be fixed, the major option was to visit the mechanic, which, let's face it could be both expensive and time-consuming. With the proliferation of OBD II scanners, we have what can be considered a less expensive option in the long run. With an OBD II scanner, you can very conveniently get an assessment of your vehicle and even determine what the best course of action would be on your own.
OBD II scanners have the ability to check important functions in your vehicle such as the exhaust emission levels, fuel pressure and other important metrics. The availability of your vehicle's assessment allows you to know what state your vehicle is in at every point in time, allowing you to save on maintenance and repair costs. 
With the upgrade of the On-Board Diagnostic system from level I to II came more reliable and quick diagnosis. You can sufficiently rely on information provided by your OBD II scanners, and there's the added advantage of the information being provided in simple, easy-to-understand language.
Asides providing you with the information needed to diagnose what is wrong with your vehicle, OBD II scanners prevent you from driving blind, literally, especially in bad weather conditions. 
How to Use an OBD II scanner 
The OBD II scanner is relatively an easy to use tool. It doesn't take an Einstein to figure out how the system works. Following the standardization of OBD II scanners, most cars manufactured after 1996 feature a Diagnostic Link Connector (DLC).
A DLC is used to interface between the Powertrain Control Module (PCM) that is your vehicle's brain and an OBD II scan compliant tool. To make use of an OBD II scanner, you have to find the DLC. You can do this by referring to your vehicle user's manual. 
After locating this, you connect to your scanner. Depending on the type of scanner you have, you might require a wired cable for this. Again, different scanners have their peculiarities.
Some scanners may require that you keep your car running after connecting to the DLC while some others would require that you keep the car in idle mode. 
Connecting your scanner to the DLC allows both systems to communicate. You will then be required to input details such as the Vehicle Identification Number, model, type, engine etc. requested by the scanner after which you select the scan option. 
Once your scan is completed, the scanner will provide codes or an error message. You can then interpret what these codes mean using the instructions manual or by searching on the internet.
The above guide on how to use the OBD II scanner is a general market guide and you may in addition to this have to study the instructions manual.
Different types of OBDII scanners
In the previous section, we kept making reference to the peculiarities of each scanner as a factor to consider in the use of your OBD II scanner. In this section, we shall be examining the two broad categories of OBD II scanners that are available in the market today. This would help us to better understand the way different scanners operate. All this background information serves the ultimate purpose of enabling us to select the best OBD II scanner. 
Basic Code Readers
Code readers are usually the cheaper option available. This is because it is less functional than the scan reader. Code readers perform the basic function of reading the codes, and that's about it. Despite its limited use, a code reader is a great tool to have for a car owner who wishes to save on repair and maintenance costs. 
Scan tools
A scan tool is a more sophisticated version of the code reader. Asides reading the code like the basic code reader, a scan tool enables you to read the code and clear it. It also gives you access to comprehensive data, and some sophisticated versions of the scan tool can control or customize the vehicles onboard software.
However, you should note that not all scanners are the same, and the more features a scanner has, the more expensive it is likely to be.
Best OBD2 Scanner For Toyota
What makes a good scanner: Factors to consider when choosing an OBD II scanner
If asked, every scanner manufacturer will claim to have the best scanner out there in the market. But we all know there are many sub-par or even outright terrible products out there. In choosing the best scanner, certain questions must be answered. Does the product do what it claims to do? Is the product available? Is it easy enough to use?
In choosing the best scanners, here are some factors to consider 
Ability:

 In choosing an OBD II scanner, the first thing to consider is the features of that particular product. How well does it perform? Is it just a basic code reader or a scan tool? (see previous section). A good scanner must have the ability to provide and store data within a short time. One of the reasons why OBD I scanners are not desirable today is that they lack speed and the ability to perform a wide range of functions. Therefore, choosing an OBD II scanner that does very little more than the OBD I scanner makes little sense. 

Ease of Use: 

OBD II scanners are used by different categories of people ranging from the novice car owner to the automobile obsessed DIYer to the auto-mechanic. A good scanner must serve the needs of these different categories of people, which means it must be easy enough to use by the novice user. 

Universality: 

A good scanner should be compatible with most vehicles, including those that are not OBD II enabled, i.e. vehicles made before the second generation of OBD scanners. It should also be adaptable enough for use on different platforms like smartphones, tablets, laptops. Another thing that would make a scanner more desirable is being upgradeable. No one wants to be stuck with an OBD II Scanner that does less than its counterparts for the longest time neither does anyone want to have to pay for a new scanner every now and then.  

Versatility: 

A good OBD scanner must be versatile enough for easy movement. It should also be designed with alternative power sources and wireless capabilities. 

Good value for money: 

The fact that an OBD II scanner has passed the aforelisted metrics does not mean that it has to be ridiculously priced. However, we understand that the more features a scanner has, the more expensive it is likely to be. Yet, we insist that it must be a good value for money.
Considering all the aforelisted and consumer feedbacks, we have selected the top six OBD II scanners for Toyota. In no particular order, our top selections are;
1. Blue Driver Bluetooth Pro OBD II Scan 
Perhaps the best thing about the Blue driver Bluetooth Pro OBD II scan is the fact that it can remain connected to your car's DLC while you drive. It works wirelessly as it is connected via Bluetooth. The Blue driver not only reads error codes, but it also suggests repairs as well saving you the cost of a trip to the mechanics. 
It also comes with a freeze frame function that easily makes it the toast of users out there. In layman's language, a freeze frame is a snapshot of data captured when an error was detected within the car's system. This snapshot can provide a lot of much-needed insight into fixing up your vehicle. 
The Blue driver is relatively cheap, considering the array of functions it performs. The Blue driver gives you more data than you need for a basic error code reading.
Pros
Easy to connect with Bluetooth
Reads error codes as well as suggest repairs
It has a free iOS and Android app that is easy to use and navigate by even the most clueless person
Reads codes and errors that other devices would not spot easily.
It comes with a manufacturer's warranty
Great value for money
Provides live data
Updated by manufacturer regularly
Cons
It requires an additional app download to function optimally
Some of its features are vehicle specific
Although, generally portable and easy to move around, It is large for a Bluetooth device
2. Foxwell NT510 Elite
With a self-learning software that enables it to adapt to your car, the Foxwell NT510 Elite comes in highly recommended. Although compatible with OBD I vehicles as well, the Foxwell NT510 Elite performs a lot of advanced OBD II functions. It is equipped with several DTCs and so can provide live data and erase codes. It does a bit more than the standard diagnostics.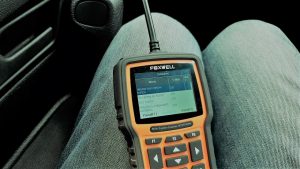 The Foxwell NT510 Elite is used extensively by professionals in the automotive industry. You can read DTC codes, reset service indicators, and actuate at a relatively affordable price. Although built specifically for professionals, the Foxwell NT510 Elite has a user friendly interface that people without professional experience can adapt to. 
Pros
It is easy to carry as it was made to fit easily in one hand
It has advanced functions such as programming
It has the ability to be made compatible with different car makes by installing the right software
It displays information in an easily viewable form
It provides advanced functions with more accuracy than average
It is made with durable materials to support workshop wear and tear
Cons
Might be difficult to use for a non-professional as it was built specifically for professionals
The unit can only support a limited number of car models at a time
It runs special diagnostics only on 2015 and new model cars
Preloaded software
3. Autel Autolink AL 319
Built for simplicity and speed, Autel Autolink AL 319 makes the cut as one of the best OBD II scanners for Toyota. The Autel Autolink AL 319 is made with the average user in mind which means that is suitable for use by both automobile professionals and regular car users.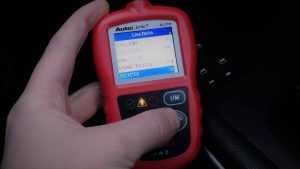 It is an affordable tool that not only points you in the direction of the problem but also grants you some diagnostic advice (codes). It is also safe to bank on the quality of this scanning tool as Autel manufactures it, a recognized and trusted brand. 
The Autel Autolink AL 319 helps you know the readiness status of your vehicle monitors when repairing and makes it easier for your vehicle to pass state-imposed emissions inspections. Like the Bluedriver Bluetooth Pro,
The Autel Autolink AL 319 also has the Freeze Frame function that gives you clues as to what is wrong with your vehicle allowing for a more precise diagnosis. It also allows for easy access to clear, easy-to-understand diagnostic code which will reset the monitors to verify the repair. It can read both generic and manufacturer specific codes. 
Pros
It has the freeze frame function
Quick and easy access to diagnostic trouble codes
Quick and easy access to monitor readiness
Top notch user Interface
Affordable for the average user
Cons
Not suitable for extreme weather situations as it begins to log really slowly
Not suitable professional level diagnostic needs
4. Launch CRP129
The most noticeable thing about the Launch CRP129 is the easy-to-use design that features control buttons that allow you to scroll in different directions, select options, and just navigate in and out of a screen.
The Launch CRP129 also sprouts a book button that opens up a screen that interprets the code that is eing given. This scanner is unbelievably versatile and when reviewed in relation to its functionality, it is pretty pocket friendly. The Launch CRP129 supports online upgrades, has a multi-lingual menu, and supports all test modes of the OBD II. 
It is basically an all-in-one scanner that is compatible with many car brands just as it is with Toyota. Another outstanding feature of this scanner is that it has a slot for an SD card that you can use to save codes and information from the built-in book. 
Pros
It is an all in one device that supports all 10 test modes
It is fast
It is not too costly
It is easy to navigate with the button features
It is versatile
It can be updated easily over the internet
It comes with a manufacturer's warranty
Cons
It does not have an alternative power source
You have to download the software CD to use with your computer
5. Fixd
Unlike the other scanners on this list the Fixd OBD II Active Car Health Monitor does not very little other than diagnostics. However, its portable design and ability to detect up to 6800 possible causes of the error code and the description of the probable causes sets it apart from other devices in its class. The Fixd scanner uses a free Android and iOS app and communicates with your phone through Bluetooth.  
The Fixd scanner also features a timeline screen that offers maintenance reminders including routine oil changes, air filter replacement, lubrication e.t.c.
Pros
It is easy to use
It offers accurate diagnosis of the issues
Maintenance reminders help to save cost in the long term
It is affordable
Cons
It doesn't actually fix the car although it offers a quick and easy diagnosis
Works only with gasoline enabled care
6. Innova Car Scan Pro 5610
With a number of diagnostic and basic maintenance features built in, the Innova Car scan Pro 5610 Scanner makes the list as one of the best OBD II scanners for Toyota. The Innova Car scan Pro 5610 is described by its manufacturer as "the most feature rich OBD II scan tool in the range, empowering the enthusiast-level DIYer with professional-level functionality for OBD II diagnostics" and we are tempted to agree. Save for a little difficulty in user navigation that was not solved by a hundred-page long ebook manual, the Innova Car Scan Pro 5610 is a top one.
The scanner allows you to view live data for advanced systems and sends commands to test for different functions on your vehicle. The scanner also can view, record and playback live data. The scanner lets you perform certain tests on your vehicle depending on the make and model of your vehicle. 
Pros
Basic maintenance prompts
Ability to record and playback live data
It helps you find the problem and fix the problem
Cons
Difficult to navigate
FAQ
Can anyone use an OBD II scanner?
OBD II scanners are designed with different levels of users in mind. While some scanners are designed specifically for professional use and may be difficult to use for a non-professional, there are scanners designed for use by the average person. Some scanners are even designed to be very simplistic and easy to use for people who have absolutely no technological background. 
So yes, anyone can use an OBD II scanner depending on the design and features of the specific typeof OBD II Scanner. 
How do I locate my Toyota's OBD II connector? 
In spite of the standardization of OBDII that has necessitated that all vehicles made from 1996 to come with an OBD enabled port, many people are not aware of the existence of this port or how they can locate it on their vehicles. The norm is that the port is located around the vehicle's driver's side. 
However, sometimes it is located so out of view that it is difficult to locate. The best and easiest way to locate your Toyota OBD II connector is to check your vehicle's manual. Where this is unavailable, you are advised to search the area around the dashboard. Also, some OBD II Scanners such as Fixd come with an OBD II port locator.
Will your scan tool read manufacturer-specific trouble codes?
Yes. A scan tool can read both generic and manufacturer-specific error codes 
Can I upgrade my OBD II Scanner to suit my car make? 
The more sophisticated OBD II scanners come with an upgrade feature. Some even allow you to update over the internet. Also, to use an OBD II scanner with certain car makes or models, it is required that you first adopt the software that is compatible with your car. 
Does all OBD II Scanner fix my car problems?
Not all OBD II Scanners have the ability to fix your vehicle's problems. Some OBD II scanners are built to only diagnose the problem and point you in the direction of the problem. The OBD II scanners that can perform both functions are usually the scan code types and are generally more expensive to purchase than the basic code readers that perform basic diagnostic functions.
How do I know what kind of OBD scanner I need?
Choosing an OBD II Scanner is largely dependent on your individual needs. Do you work as an automotive expert or you are an enthusiastic car user? The needs of a professional would be largely different from that of a non-professional. Hence, when choosing a scanner the major thing to consider is the purpose for which you need the scanner. This will then guide your selection based on other factors such as functionality, cost, adaptability e.t.c.
Can I use an OBD II scanner while driving?
The answer to this is based on the specific manufacturer's instruction that comes with your scanner. Some scanners can be plugged in while driving as they collect live data and some scanners can be used only in idle mode.
Final Remarks
As stated in the earlier part of this article, the ultimate aim of an OBD II Scanner is to maintain optimal vehicle performance and safety; and to save costs of maintenance and repair. Whether you want to attempt to repair your vehicle on your own or you want to consult with some professional, it doesn't hurt to have information on the state of your vehicle.  Going to your repairer armed with this kind of information saves you from paying for extraneous items. 
From the list of the OBD II scanners we have carefully curated for you, you can see that there is a pattern of choosing functionality and value for money over other considerations such as cost and design. Choosing the best OBD II scanner for your Toyota shouldn't be a big deal following this extensively researched review and product guide. 
In making your final selection of an OBD II Scanner, asides functionality, you must make sure to pick the OBD II Scanner that best matches your personal preferences.  This would allow you get the most value for your money. If portability is more important to you than an easy Bluetooth connection function, then you might prefer the Fixd scanner to the Bluedriver. 
Also if you live in an area where you experience extreme weather often, the Autel AL 319 might not be the best choice in spite of its It has the freeze frame function quick and easy access to diagnostic codes and its well-designed interface. 
In conclusion, an OBD II Scanner is a very useful tool to have both for the average person to the automotive industry professional.