Having a quality OBD2 scanner within the car is essential if you're a car lover! A scanning tool keeps your car updated and saves a lot of time and cash by preventing daily visits to the mechanic.
Also, if you're able to determine issues within your vehicle, you can rectify them quickly and prevent accidents as well.
When searching for the proper diagnostic tool, you should always seek a reliable and accurate code reader. Foxwell NT614 Elite is one of the most popular and widely used scanners and is known for a big-screen display than many other brands.
This article will give a complete Foxwell NT614 Elite review and highlight the essential features that make this tool stand apart from others.
FOXWELL NT614 Elite
This tool is created specifically for professional mechanics and car lovers. It is compatible with more than 50 vehicles and has basic and advanced functionalities.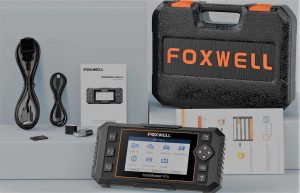 Build for easy and reliable usage; it comes with a lifetime of FREE software updates and a 1-year warranty.
Pros
It has a solid built to handle most of the impacts.
The Foxwell NT614 Elite scanner offers a lot of functions and multi-lingual options.
The screen is significant for a detailed and more prominent display.
The tool comes with an 8 GB memory card that helps store diagnostic data.
It has a coverage of 50+ vehicles
Cons
The system update for MAC is not available right now.
The power supply depends on the car battery.
Some users complain about slow data reading.
It is not always compatible with the latest car models
What Are The Main Features Of Foxwell NT614 Elite?
1. Read And Clear Code:
This tool can read the engine and clear the codes by highlighting any errors within your car. Most of the time, the errors are automatically resolved through this diagnostic tool.
2.Live Data:
Foxwell NT614 Elite comes with live sensor data to deduct transmission, engine speed, fuel system, and more. The targeted factors are shown in graphs.
3. Compatibility:
Foxwell NT614 Elite is compatible with all OBD 2 cars, Mini Vehicles, Light duty trucks from 1996 to 2019. In addition, users can get car coverage from multiple manufacturers.
4. ABS:
The tool comes with an indicator that shows a warning light reminding the user that there is something wrong with the ABS system.
5. EPB:
This function allows users to perform the maintenance of their brake systems. In addition, they can control various settings related to brakes.
 6. Oil Light Reset:
With this menu, users can reset their oil indicators and know when they require service. Users get three reset modes: one button, manual reset, and auto-reset.
7. Free Upgrade:
The Foxwell NT614 Elite comes with a FREE update online, along with fixes for bugs in new vehicles. New functions and parameters are also added.
8. SRS (Airbag) Diagnose:
With this feature, users can know about the errors within the airbag system of their vehicle. In addition, a warning light will flash if the airbags require replacement.
9. Engine System Diagnose:
This diagnostic tool can retrieve current and pending codes related to the vehicle's engine. By clearing the faulted codes, you can turn off the engine light in a few minutes.
10. Transmission System Diagnose:
The tool can check the live data, read, and clear the codes in the transmission. It helps to keep the transmission system closely linked with load and speed.
What Are The Advanced Features Of Foxwell NT614 Elite?
1. The Design: 
The Foxwell NT614 Elite comes with a 4.3-inch color screen that helps merge graphs simultaneously and displays more extensive details.
2. Wide Range Of Functions:
The device comes with full OBD 2 functionalities. In addition, it can perform various tests like freezing frame data, monitoring test of O2, DTC lookup, and more.
3. Foxwell NT614 Elite Vs. Others 
Before you go on the journey of choosing the suitable OBD 2 scanner, some key differences can help you decide the better one! Foxwell NT614 Elite scanner offers a testing capability and complete repair functionality that professionals need, and it has a solid built quality that gives more lifetime to users in the service.
First, let's look at some of the main features that will help you decide between two major brands. These brands are very well known, and users love to purchase them.
Foxwell NT614 Elite vs. Ancel FX2000
| | | |
| --- | --- | --- |
| | Foxwell NT510 Elite | Ancel FX2000 |
| Customer Rating | 4/5 | 4/5 |
| Price | $185 | $178 |
| Product Dimensions | 13.3″ x 9.1″ x 3.3″ | 9.1″ x 1.8″ x 7.8″ |
| Item Weight | 2.99 lbs | 1.59lbs |
| Read & Clear All Codes | | |
| Reset MIL | | |
| OBDI/OBDII | OBDI, OBDII | OBDII |
| ABS, SRS Diagnostics | | |
| Transmission Diagnostics | | |
| ABS Bleeding | | |
| Full system Diagnostics | | |
| Battery reset | | |
| CBS Reset | | |
| SAS Calibration | | |
| DPF Regeneration | | |
| Oil Reset | | |
| Throttle Body Adjustment | | |
| ABS Bleeding | — | — |
| View Freeze Frame Data | | — |
| TPMS Programming | | |
Key Differences 
1. Unique Design:
The Foxwell NT614 Elite has a 4.3-inch LCD color screen, and it comes with a non-slip button for operations. Ancel FX2000, on the other hand, comes with a 4.0-inch TFT color display with multi-functional keys. Both help to operate vehicles in English, French, German, Spanish, Russian, and more.
2. Graph And Live Data:
Ancel FX2000 has live data reading from 4 systems, and users can focus on any suspicious parameters whenever they are displayed. The Foxwell NT614 Elite review can easily read data and clear codes of Engine, ABS, SRS, and Transmission system. It can also display freeze frame data in the form of a graph.
3. Software Update 
Users can download the latest software updates from the website as both tools offer support of FREE online updates.
In addition, manufacturers give a 1-2 years warranty so that users can easily rely on the quality of the product and utilize it without any misunderstanding in their mind. It is also one of the primary reasons people prefer to buy big brands.
4. Supported Protocols: 
Foxwell NT614 Elite works perfectly fine with OBD 1 and OBD 2 vehicles; they also support 2018 and 2019. Ancel FX2000, on the other hand, operates on cars from 2002 and some cars from 1996 US-based models.
It is available primarily for OBD2 test. Both tools offer the best support for keeping cars in balance.
5. Oil Service Reset:
In the Foxwell NT614 Elite, there are 48 makes of Oil Service Reset coverage, whereas there are 42 makes of Electronic Park Brake coverage. It is also available in Ancel FX2000, but the number is a little less in comparison.
FAQ
Read the questions below to know what people are searching for:
Who can use Foxwell NT614 Elite And Ancel FX2000?
These tools are perfect for beginners and professionals who look to use them for intermediate purposes. Both devices come with basic and advanced features that can help all car lovers to enjoy savings in cost and time.
However, the Foxwell NT614 Elite is the best choice for travelers as its built quality is much stronger.
Can We Graph Data With These Scan Tools?
Yes! Both of these tools have the capability to read and display live data of vehicles in the form of a graph or text. It enables a user to keep an eye on anything suspicious within the car.
You can also see graph parameters simultaneously and even merge them to see actual data without wasting much time.
Can We Use Scan While The Car Is Off?
No, we cannot do a scan with both of the scanners. The code reading is depended on the car battery. If the battery is off, it will be impossible to have an analysis of the car.
Therefore, it is necessary to have the vehicle run for a complete scan, read, and clear the codes.
Can We Send Or Print Email Of Diagnostic Data?
Yes! Users can easily download or perform printing of their data through the device. Kindly visit the official website of the tools to know about the simplest way of doing it. Once it is done, you can easily save or send the data.
To Conclude It All…
There are many scanning tools available in the market, but only a few can compete in quality and functionality simultaneously.
Foxwell NT614 Elite review showed that it is capable of performing both. In addition, it has a user-friendly interface that can save users from wasting their time checking the vehicle during an unplanned road trip.
The tools discussed above are perfect for professionals, small garages, and work on multiple car models. Users can quickly scan vehicle results and save time.
There are various options for language support within both tools. Users from around the world can utilize it through a color screen display and efficiently operate the device. It all comes down to the priority of features required to users to prevent any accidents.